Welcome to the official website of the Embassy of Denmark in the Republic of Korea.
Dear Friends,
Welcome to the Embassy of Denmark in the Republic of Korea.
Though miles apart, the people of Korea and Denmark are connected through a special mindset; we share an innovative approach to the challenges of modern society. Our friendship and mutual understanding have grown stronger over time. In fact, in 2019, we celebrated 60 years of diplomatic relations, with both governments commemorating this milestone by designating the year as the "Korea-Denmark Year of Culture". Cultural events took place in both countries all throughout the year, among which the official visit to Korea by TRH the Crown Prince Couple of Denmark was the highlight.
The Embassy's main task is to further enhance and strengthen the longstanding relations between our two countries. We do that through cooperation at the government and political level, by promoting business, trade and economic relations and through cultural activities. A strategic partnership sets the frame around our cooperation.
Denmark played a humanitarian role in the Korean War through the hospital ship "MS Jutlandia" and continues to be actively engaged in the United Nations Command(UNC). The UNC contributes to ensuring peace and stability on the Korean peninsula.
Since the medical contribution through Jutlandia, the Danish-Korea collaboration on health has expanded in recent years, now covering several collaboration agreements between our governments as well as collaboration with the private sector and civil society. Our countries face many of the same challenges; from COVID-19 to ageing populations with more chronic diseases, which is why bilateral collaboration in this area is of great value.

Korea and Denmark's collaboration also extends to the Green Growth Alliance, which shows a strong mutual commitment to work together in promoting bilateral cooperation within the areas of sustainable growth and development.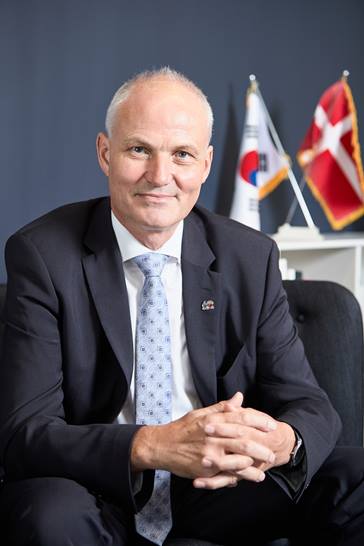 Trade and economic cooperation is another cornerstone of our bilateral relations. Over the last years we have seen an increasing volume of trade and investment between our two countries. The Embassy actively assists Danish companies in exporting to and developing their business in Korea by tailoring our services to the needs of individual companies. And together with the Embassy's Innovation Centre, we are well geared to promoting research and innovation cooperation as well as Korean investment in Denmark.
Cultural exchanges between our two countries are deeply rooted. We work creatively to facilitate new activities to the benefit of audiences in both countries.
Consular assistance to Danish citizens in Korea is also an important task of the Embassy.
It is my hope that our website will meet your requirements. You are always welcome to contact us should you have further questions or need additional information.
With warm regards,
Einar Jensen
Ambassador of Denmark to the Republic of Korea