Welcome to the official website of the Embassy of Denmark in the Republic of Korea.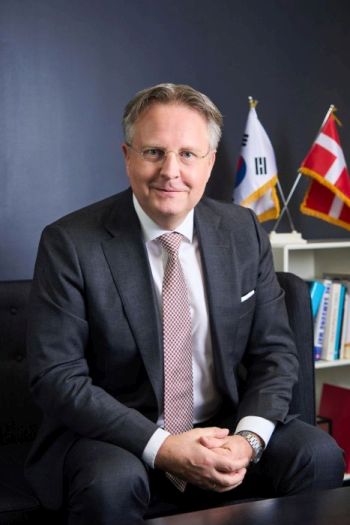 Dear Friends,
Welcome to the Embassy of Denmark in the Republic of Korea.
Though miles apart, the people of Korea and Denmark are connected through a special mind-set: we share an innovative approach to the challenges of modern society.
Denmark provided humanitarian assistance during the Korean War through the hospital ship MS Jutlandia. Today, Denmark continues to actively contribute to ensuring peace and stability on the Korean peninsula through our commitment to the United Nations Command (UNC). Our friendship and mutual understanding have only grown stronger over time.
The embassy's main task is to further strengthen these longstanding relations between our countries. We do that through cooperating at the political level; promoting business and trade relations; increasing research and innovation collaboration; and engaging in cultural activities. The Danish-Korean Comprehensive Green Strategic Partnership sets the framework for our cooperation.
I am proud to say that we continue to see an increasing volume of trade and investment between our countries. The embassy is dedicated to assisting Danish companies in exporting to, and developing their business in, Korea by tailoring our services to the needs of companies. Together with the embassy's Innovation Centre (ICDK), we are also well geared for promoting start-up, research, and innovation cooperation, as well as Korean investments in Denmark.
Our collaboration on health has also greatly expanded since the Jutlandia days. It now includes several agreements at central government level as well as collaboration in the private sectors and civil societies. Aging populations and increased chronic diseases are just some of the same challenges we face, which is why working together in this sector is of great mutual value.
Another important part of our strategic partnership is the Green Growth Alliance (GGA), which is a forum for annual high-level exchanges on topics related to global green transition. With the alliance, Korea and Denmark are joining efforts to promote the political, commercial, and technological developments required for a paradigm shift towards low-carbon green growth. Since its establishment in 2011, our partnership has expanded greatly to cover areas such as wind energy, green hydrogen, and biogas, as well as to multilateral partnership such as the P4G (Partnering for Green Growth and Global Goals).
Cultural exchange is also an essential part of our partnership. The embassy continues to work creatively to facilitate new activities for the benefit of audiences and artists in both countries.
Last but certainly not least, consular assistance to Danish citizens in Korea remains one of the most important responsibilities of the embassy.
It is my hope that our website will meet your requirements. You are always welcome to contact the embassy should you have any questions or need additional information.
With warm regards,
Svend Olling
Ambassador of Denmark to the Republic of Korea